Greetings from China! It was a long haul to get here but all is good. The trek was about 32 hours in total with the route being Halifax – Montreal – Shanghai – Chongqing. This city has a crazy population of 34 million people (Canada has approx. 37 million). I am staying in the outer ring of the city, it takes about an hour on the subway to get to the downtown core.
The temp is about 15-20C so very mild; the air is usually hazy and grey. I saw a patch of blue sky the other day for a few minutes! The air quality today is 144 which means it falls into the 'Unhealthy for Sensitive Groups' category. Those in the general public may not notice anything unless we were out running or something like that. Since we are surrounded by mountains, it also gets very foggy so it usually is foggy/hazy or it is the pollution making everything grey-ISH.
It is Day 3 here and my sleep is slowly getting better – a solid six hours last night so hopefully it will continue to improve. The food has been interesting – nothing too crazy (yet!). Breakfast is usually boiled eggs, dumplings, fried potatoes, steamed buns and hot vegetables. I discovered a new vegetable I like called lotus root that sort of looks like a thinly sliced mushroom but is a bit crunchy. Rice, soups and noodle dishes are the norm here and the food in restaurants is very cheap – no tax or tipping. A delicious bowl of beef noodles and a beer cost me $4.50 CDN dollars the other day.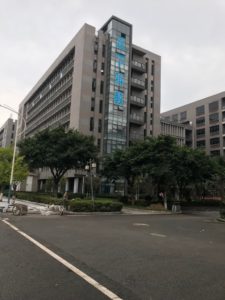 I am here to teaching at a community college under the China – Canada Educational Joint Venture Program managed by Holland College in Charlottetown. My school is about a fifteen walk from the hotel here so very convenient (you can click picture on left to expand). The kids are great, I had my first teaching day yesterday. I had some 'jitters' in the morning but everything went well.  My class runs from 1:40PM – 5:30PM, which gives me the morning to get some extra prep time in. The students age can be anything from 16 to 22, some very young as they can choose to skip high school and go right to community college. I have two 16-year  old in my class.
I am fortunate enough to have another instructor with me here in Chongqing who taught at the school last year and is showing me the ropes! Devin is in the blue jacket below along with some students who kindly escorted us downtown on Sunday to take in the sights.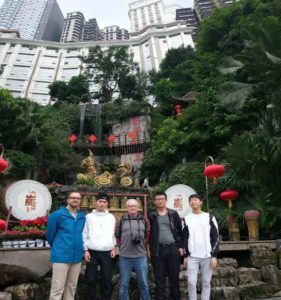 I have a translator with me in the classroom named Daisy and she is awesome. She is another teacher at the college and her English is excellent. She also knows the kids really well and is not scared to bang on the desk when a student falls asleep (just one yesterday so it was a good day). Most students live in a dorm with no parental supervision and they stay up all night playing video games!
Next post I'll show the downtown in daytime and nighttime. Downtown is where you really get to see a slice of those 34 million people LOL!