It is Day 6 for me in China so I will try my first night's sleep without any melatonin tonight. Hopefully, goodbye to jet lag! Spending time in Chongqing and teaching at the college has been a blast for sure. A real adventure so far!  The students in my class, though varying in age, are all kind, quiet and genuinely respectful. Some try harder than other's, I'll leave it at that haha.
Our school and hotel is on the outer ring of the city so we spent last Sunday afternoon and evening around the downtown core of Chongqing. Who needs fireworks when you can show off your city so spectacularly with lights.
Below is Hongya Cave, not far from where the Yangtze (brown river) and Jialing (green river) merge. It was a military fortress in the day, but today it is a crowded, 11-floor complex with shops, bars (yes we stopped for a brewski or 2) and restaurants built into a cliff. At night, we walked out onto the bridge and got a great view looking back.
We walked part way out on this bridge – it was very crowded!
The large brightly lit building is their Grand Theatre.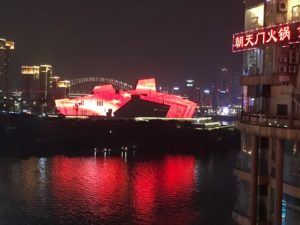 Nicely lit towers line the river on the opposite side.
The cool 'match stick' like building is the Arts Center
People's Liberation Monument and Pedestrian Square. It brings to mind Times Square in NYC!
Can you believe the Men's and Women's China Open 2018 (Curling) is here in Chongqing and both Brad Gushue and Jennifer Jones are competing. If they progress to the finals, we may try to take in a game or two on the weekend. Crazy!
Everything is going very well here and hi to everyone.