I am adjusting well to life here in China. The daily routine is breakfast at the hotel at 8:30am and then prep lesson plans (drink coffee) for school until noon. Usually, a quick snack of oatmeal, fruit or granola bar and tea will do for lunch at the hotel. After cleanup, we head off to the college around 1PM which is about 25-30 minute easy walk. Not very exciting but here are a few sights of the scenery on the daily trek to school.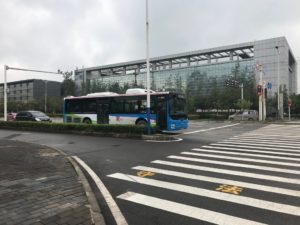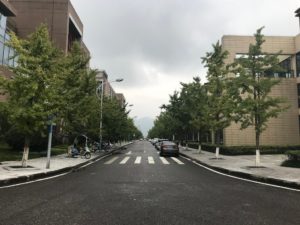 The school itself is surrounded by lots of deserted buildings as if a movie crew finished up and left town – it is like a ghost town! Weird! Not sure what is going on there!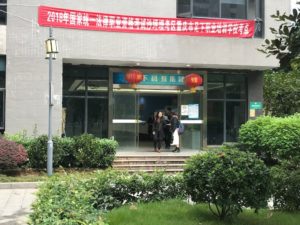 Our school day ends at 5:30PM and we can grab some supper out around town. (I will dedicate an upcoming blog to just food as dining out has been a fun experience and the best part of our day 🙂 After dinner we'll drop by a shop or two, maybe pick up a drink or snack and go back and put in a few more hours of school work.
The past weekend was busy (not much work done!) . Some staff staff and students from the college took us Canucks out for dinner Friday night. The two ladies in the photo below are my translators in class – Daisy and Tina – without them there would be no hope for me!!! I would be lost. They are teachers at the college and are really great people.
A common dining style here is family or communal dining where lots of dishes are ordered and shared on a revolving table. You already have your rice so then you just grab a sample of something as it is passing by. We had a selection of pork, shrimp, chicken, veggies and a few 'mystery items' that you aren't totally sure about.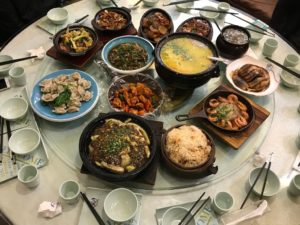 On Saturday, a group of students invited us to join them on an outing to a section of the city called Ciqikou. It is very old, traditional city full of narrow alleyways with shops all the way along. To say it was crowded is an understatement and I thought the Halifax market was busy on Saturdays.
This gentleman is cooking up a batch of soup that will later be sold in packets to prepare at home.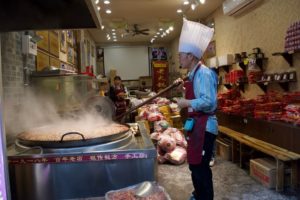 I even take a crack at a little baking of my own. I really could have used my Kitchen Aid mixer!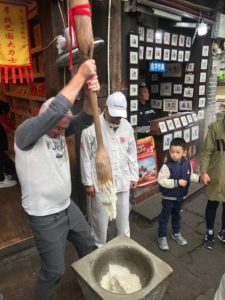 We then got to tour several prisons in the town – one being Zhazidong Prison built into an actually very serene mountain location. Ironic considering the atrocities that were carried out there.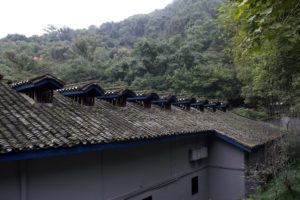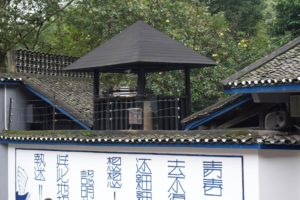 The students here are encouraged to interact with the instructors as part of their English studies, as they can learn about Canada or just practice speaking outside the classroom. It is a different culture for sure as I don't remember hanging out with my teachers – EVER!
After the kids left, we stopped at another section of town called Shapingba for some well deserved refreshments and bite to eat after lots of walking all day. We actually wore out the students – they don't get any exercise and stay up all night playing video games.
First stop Starbucks where a large latte $8CDN costs more than a full meal of noodles and dumplings about $5-6 at most restaurants. It is a treat after all as there are limited coffee shops around our hotel – I get by on my instant packets OK.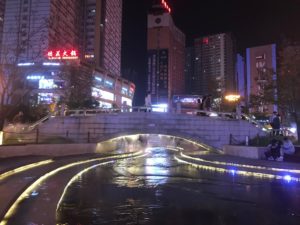 Sunday afternoon we took an epic subway ride to the curling rink here to see the Brad Gushue and Jennifer Jones' teams compete at the 2018 China Open. It is hard to belief that in the time it would take to drive from Halifax to the PEI ferry, we took a subway ride for 1 and a half hours and were still here in the same city!
I wore my T-shirt with the Canada flag on it and it caught the eye of an official who came over chatting to us. She mentioned it to Brad and they came over after the game and thanked us for coming out to watch. It was nice!