Ok, people certainly don't come to Chongqing for the crisp, clear skyline view or fresh, green pastures – nope – they come for the food. It has a reputation in the foodie community as one of THE places to eat in Southern China.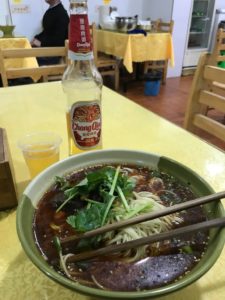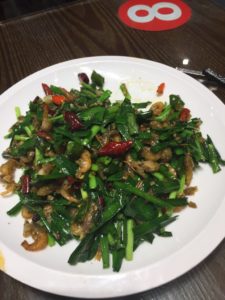 One of my first dinners here was basic noodles with beef and it was delicious (
left)
. The little shrimps (
right)
were small and salty but you could eat them whole like they were a peanut or something.
I still consider beer a food so a tray of sampler beers is always fun! Places offering craft beer are few and far between here so it always a treat to find a neat spot.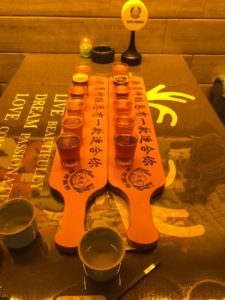 Last weekend staff and students treated us to a group dining extravaganza at a restaurant near the school. We had poached fish soup, duck soup w. mushrooms, dumplings, duck fried rice, enoch mushrooms with salty beef, shrimp with rice noddles, unlimited white rice and pineapple chicken to name a few.
The salty beef and roasted cauliflower were a couple of items on the table.
Barry (below) kept the table active all evening long, as if it were an old record album spinning away. You grab a sample of whatever you like as it is passing by!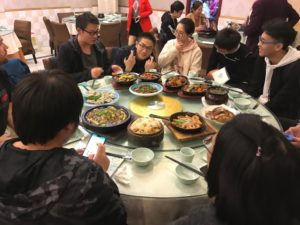 Great food, great conversation and great fun by all. It is a very common dining experience here.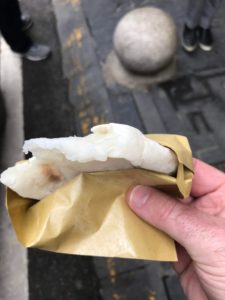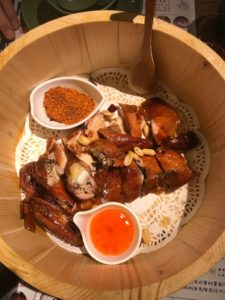 This rice cake is fried up on a grill near the sidewalk and served as street food. I tried, wasn't a real fan (left).

This roast chicken appetizer was delicious but if you look closely at about 9 o'clock (right) the chicken head was included. My crazy cohort gave it a try!
This city is famous for its' hotpot restaurants – I'm sure 50% of all restaurants we walk past are hotpot. Again it is group dining whereby a soup base, peppers, chilis, more peppers HAHA is heated over a flame. Think fondue on steroids!
The cowboy hat looking object is a solid oil that gradually melts as the pot gets hotter. The lady then adds some water which forms the soup portion and before long it is a frothing, hotpot of goodness. There are more peppercorns, chilis and God knows what else in there – more than I would go through in a lifetime I'm sure. The Chinese lady who took us out said it was almost TOO SPICY for her.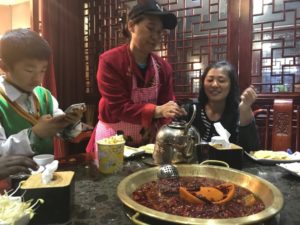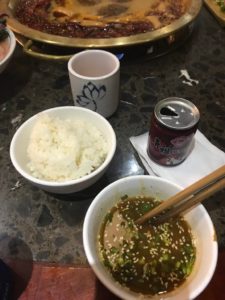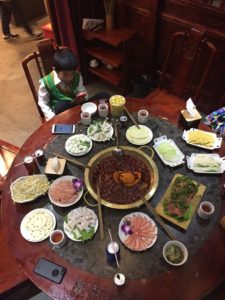 You are served rice and the other bowl is your own personal mixed concoction whereby you add the contents of the can (I think it was an oil or sauce) and then you add your ginger, soy sauce, chili oil, sesame seeds, etc. from bins on a shelf. This is to dip your food after coming out of the hot pot (left). Yummy stuff ready to eat(right).

Here I try sheeps intestine for the first time – not so bad actually. A little rubbery and crunchy consistency. We also had potatoes. mushrooms, lotus root, eggs, dumplings, pork and beef.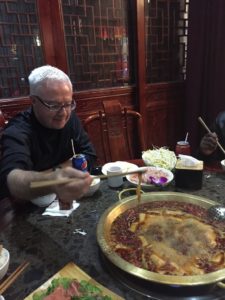 The other evening we had Mr. Fish (below) swim onto our plate right out of the river! No, it was fully cooked and so freakin' good – it just feel away from the bone and melted in your mouth.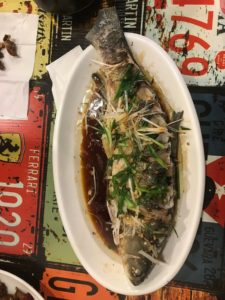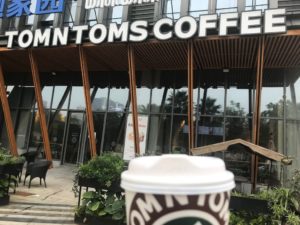 We need to take a subway to find a decent cup of coffee. I tried Tom n' Toms this past weekend and it was good!
And finally there is nothing quite like enjoying a German beer, in an Irish pub, in downtown Chongqing while watching cycling on TV. I felt right at home!