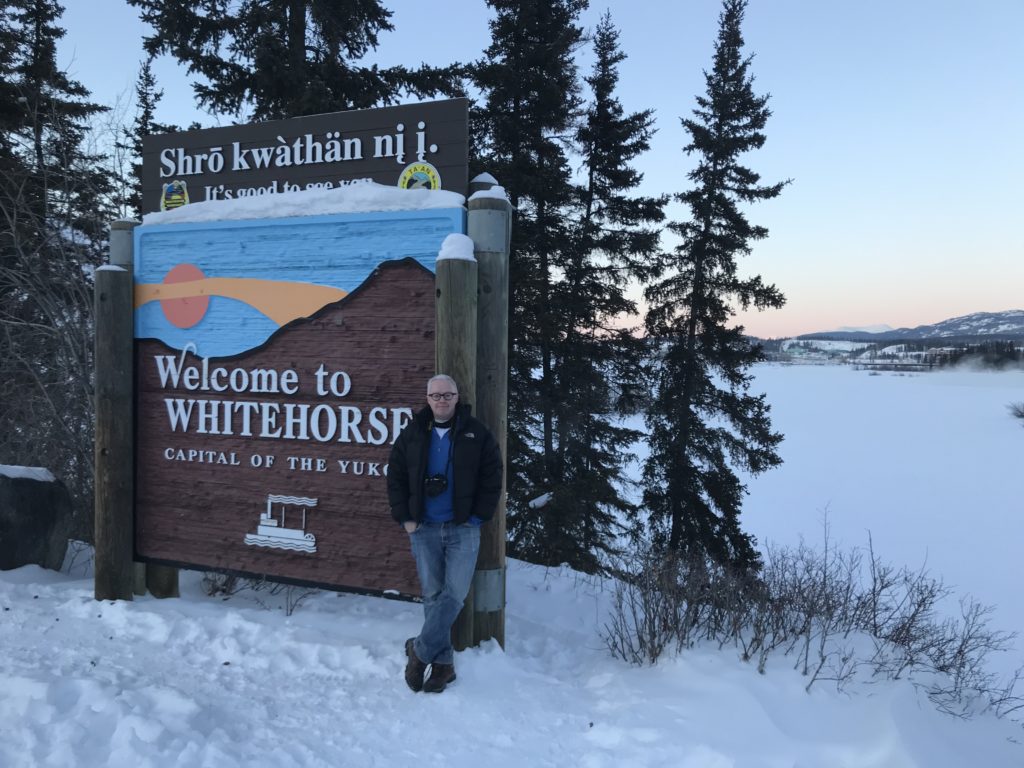 We flew to Whitehorse, arriving around midnight. We found the rental car parked outside the arrivals area – our first COLD AIR experience. Holy Bologna is was FREEZING!
We drove to the Air B&B spot, about a fifteen or twenty minute drive. We quickly noticed some great perks to our accommodations – 4 cans of local craft beer and a bag of Midnight Sun coffee in the fridge. What nice hosts!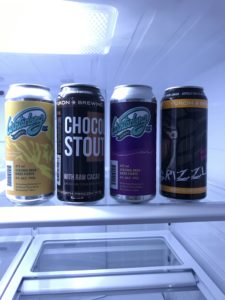 Our visit to the Yukon coincided with The Scotties broadcast on TV. My travel partner and I both enjoy curling so we always had games to watch while we enjoyed our morning coffee. We eventually introduced ourselves to our host and made our way downtown to the Burnt Toast Cafe for breakfast. It was highly recommended! There was a lineup but the line moved quickly.
Afterwards, we drove out to Mount Sima area where my friend went skiing while I relaxed and read in lodge. It was -33 degrees so no skiing for me, but kudos to him !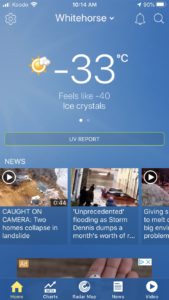 Only a few miles from the ski hill was the local craft brewery called Winterlong. We stopped in for a beer and popcorn, it was really tasty.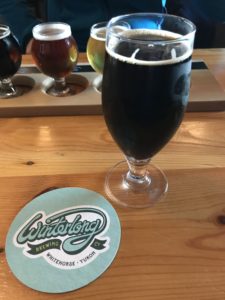 Next day, similar relaxed morning routine drinking coffee and watching some more curling. Off to Baked Cafe downtown for delicious scones and coffee – a great spot recommended by a past Yukon traveller we know.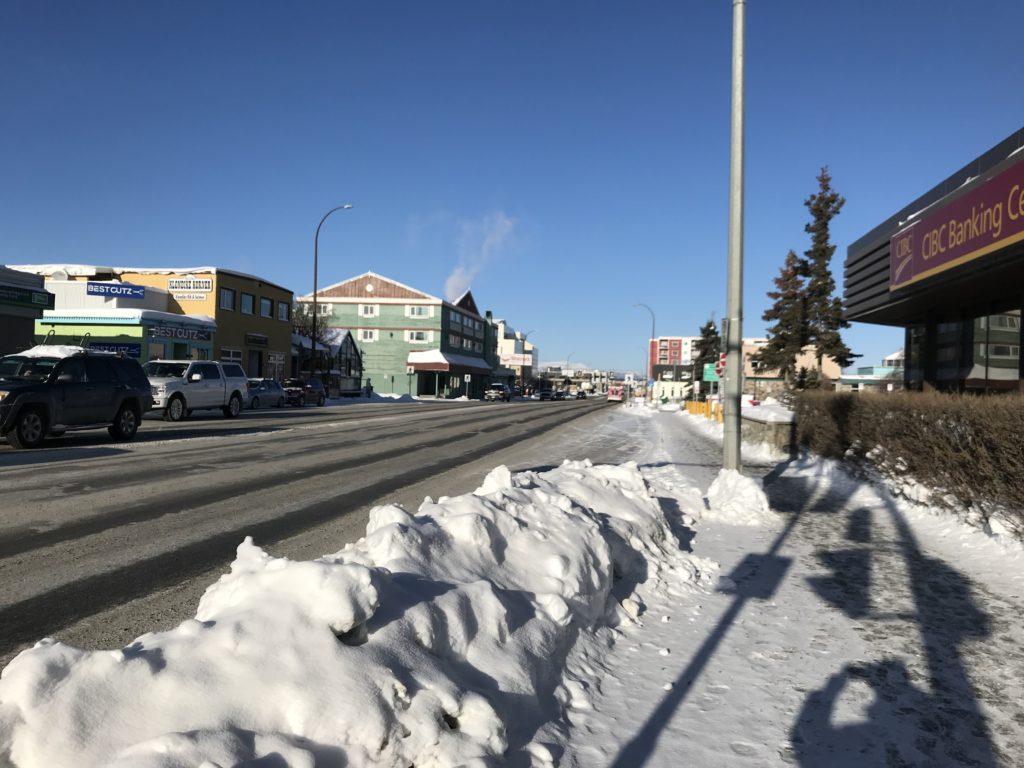 Then we head off west of Whitehorse in the direction of Haines Junction – population 800 at the entrance to Kluane National Park and Reserve. Another 323 kilometres wiil bring you to the Alaska border – but that is not in the cards for this trip LOL! Another time for sure !
We really enjoyed the empty highway and gorgeous mountains as we made our way along the Alaskan Highway. It was a cold but sunny – a great driving day. We took lots of pictures and pulled into many lookout locations.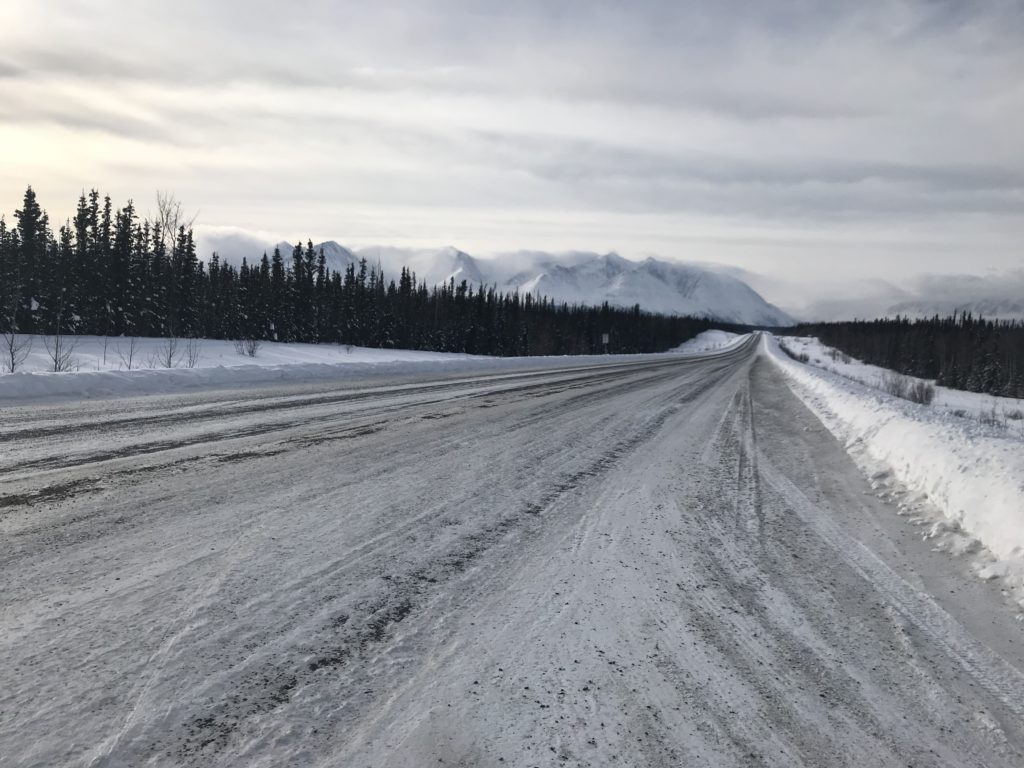 We arrived in Haines Junction but the village was in full winter mode with no Walmarts or Costcos in sight – only a service station was open. I can only imagine how busy it would be in the summer season with hikers, canoeists and travellers enjoying all the amenities of the town. The Visitor Centre was closed for the winter but we explored the town a bit, soaked up the scenery, gassed up and headed back to Whitehorse.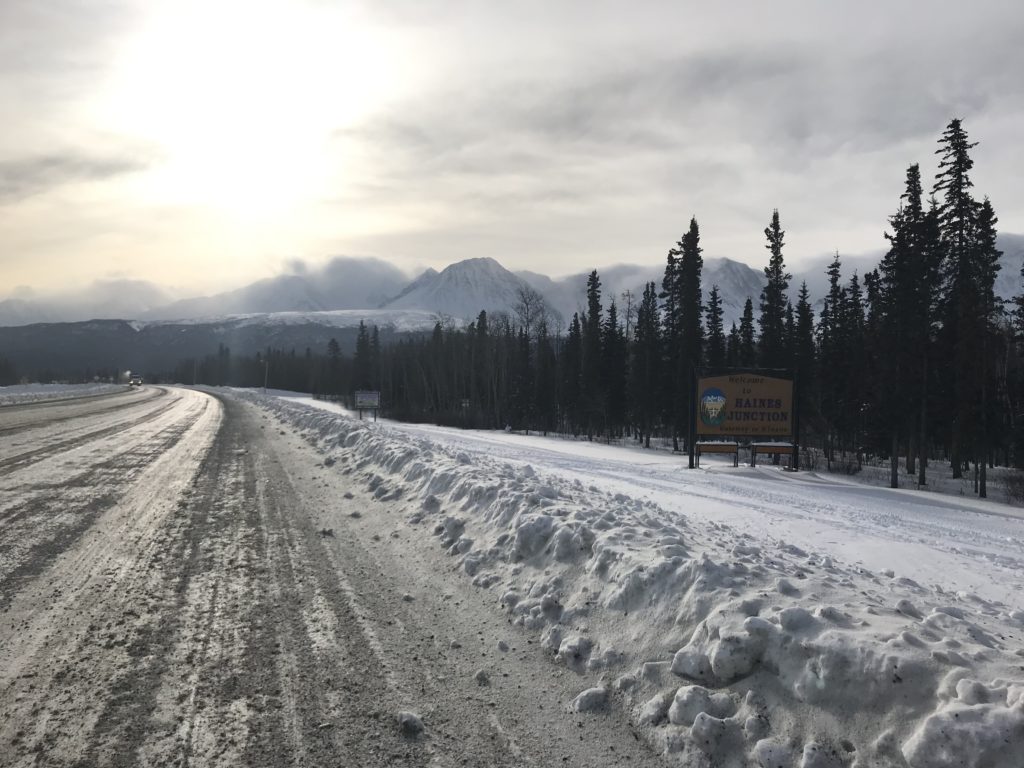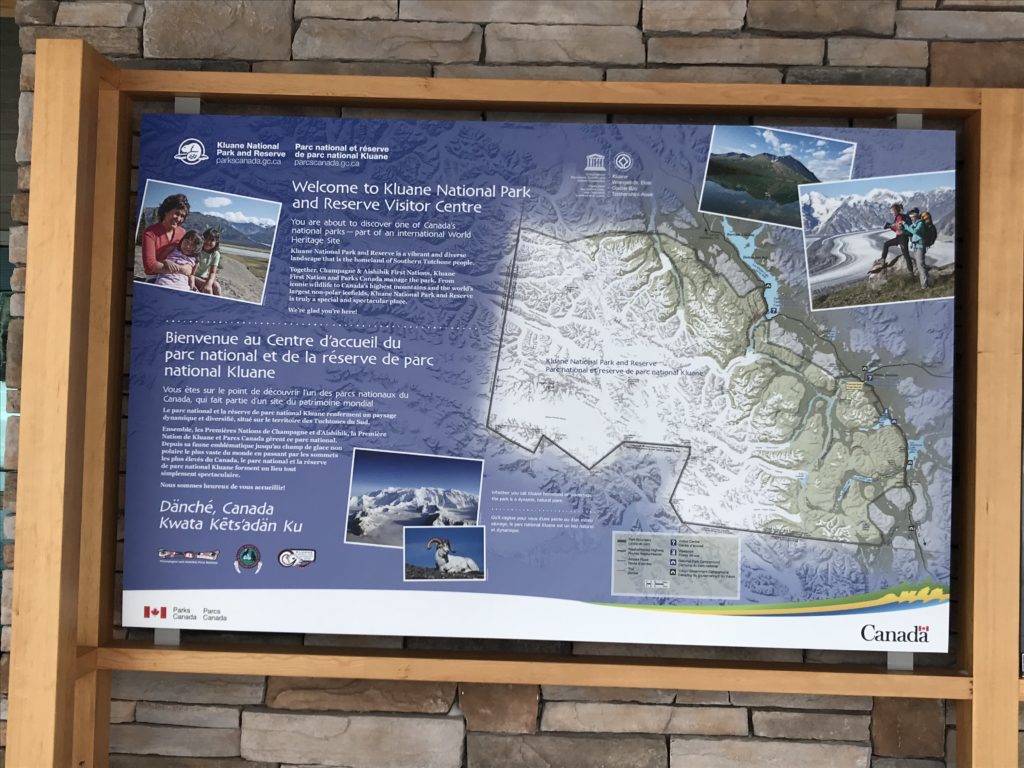 Once back into town, we mad a few stops: the Yukon craft brewery to quench our thirst, Midnight Sun Coffee where I picked up a few packages of delicious coffee to bring home, and the liquor store … just because.
Vegged out for awhile then we drove outside of town about 45 minutes to the Hot Springs. We changed into our trunks and grabbed our towels, cameras and me – my Iphone! Headed outside to figure out the layout of the place. We found a spot to put down our towels and jumped into the hot springs. It was my first time in this sort of hot, natural pool and it was very relaxing.
Unfortunately, I forgot to take my phone out of my pocket. A good minute had probably passed before i realized what a stupid mistake I had made. It seemed to power up OK so I thought all was good.
Later that night, at the recommendation from locals, we drove out to a lake on the outskirts of Whitehorse in the hopes of viewing the Northern Lights. The app on our phones gave a 'good potential' for viewing that night – our hopes were HIGH. About 12 km down a dirt road was the locale, a few other vehicles were there. It reminded me of a drive-in theatre except the lake was the parking lot and the sky was the screen. After three hours – NOTHING!!! We didn't even think to bring chips or snacks! Oh well, we did see a moose on the drive home. By the time I got home, the iPhone was dying a slow, painful death – OH OH!  Oh well, time for an upgrade anyways.
Whereas yesterday we drove west, today we drove south towards the British Columbia – Yukon border. Again driving conditions were ideal, we were so lucky! Our destination today was the town of Carcross, YK.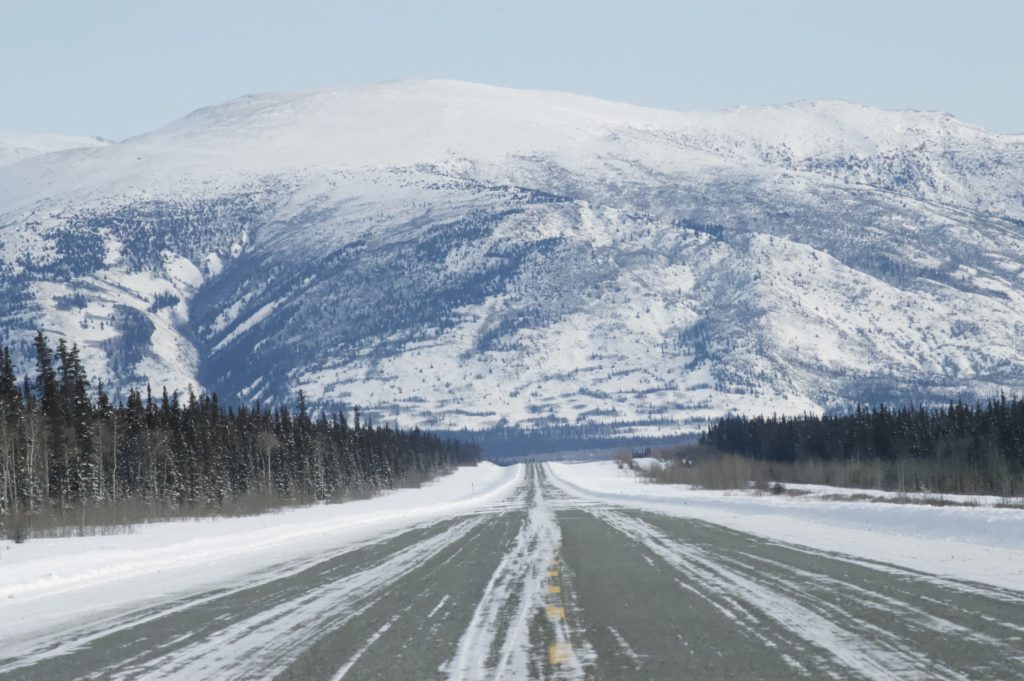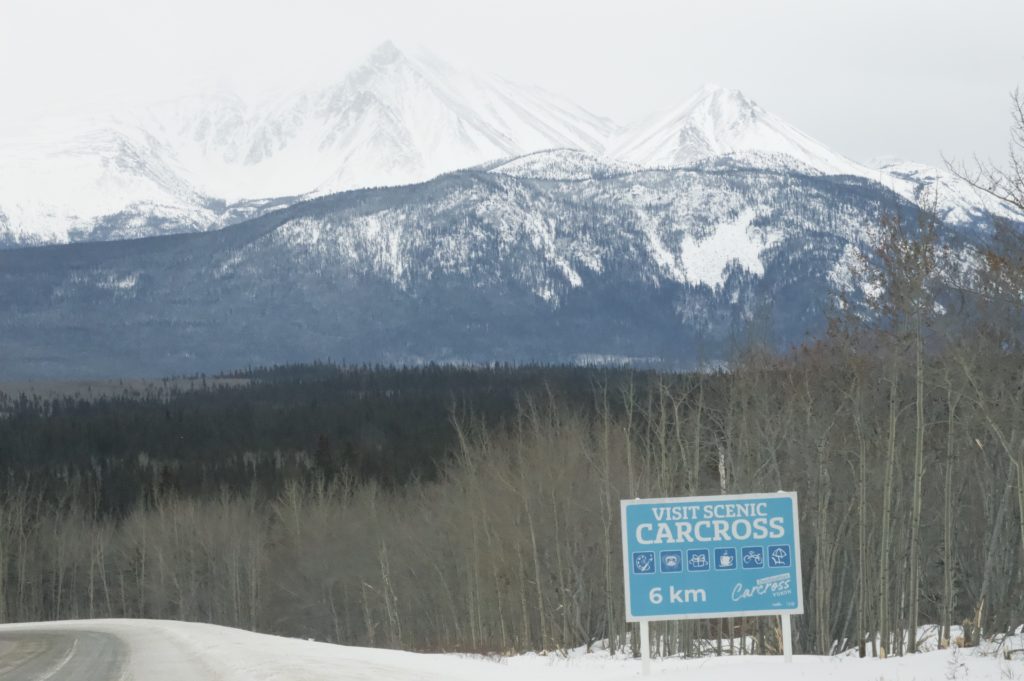 We explored Carcross for a bit, continuing on towards the Yukon – British Columbia border. The roads were a bit snowier but we made it just fine. We took lots of pictures, excited to make it here to the provincial and territorial border.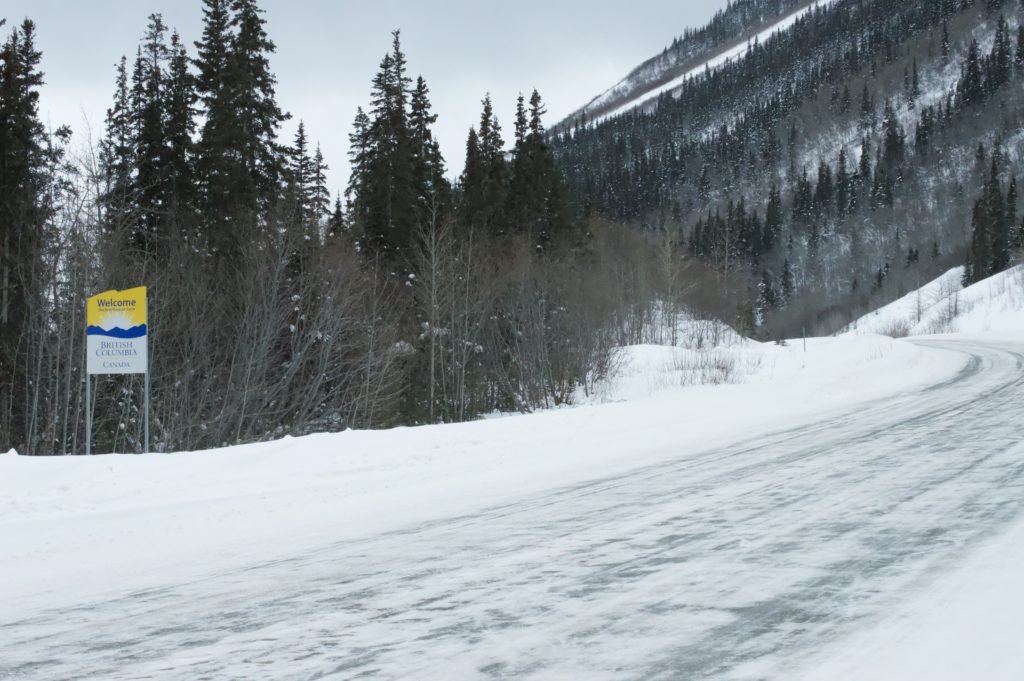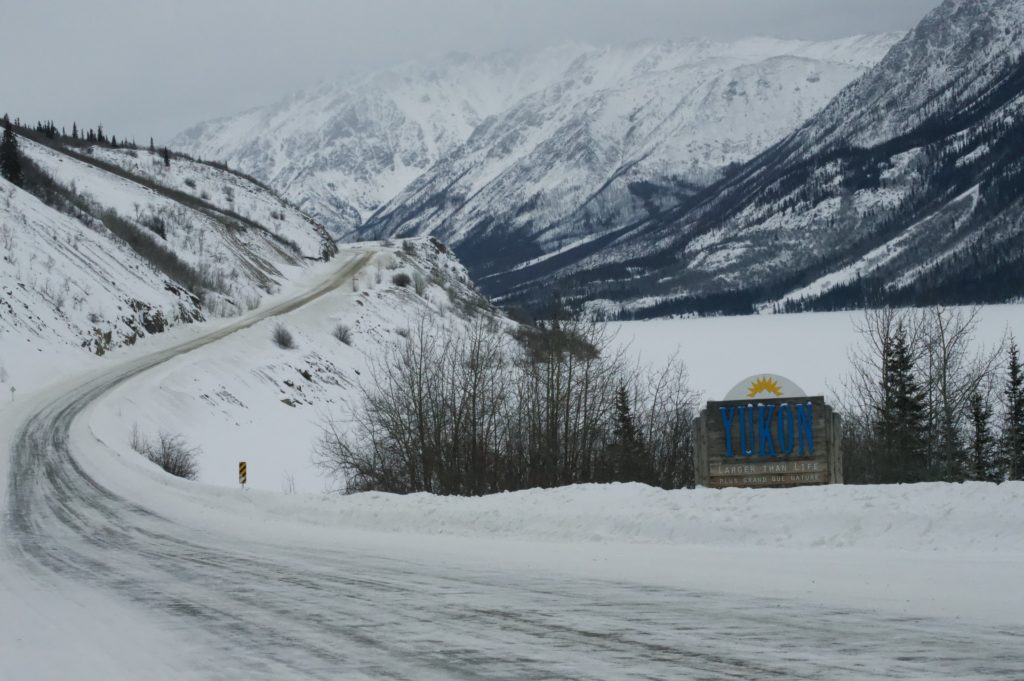 We finished off our last day in Whitehorse with a walk around the Whitehorse area on their local walking trail, getting a good peek at the Parks Canada SS Klondike and surrounding areas.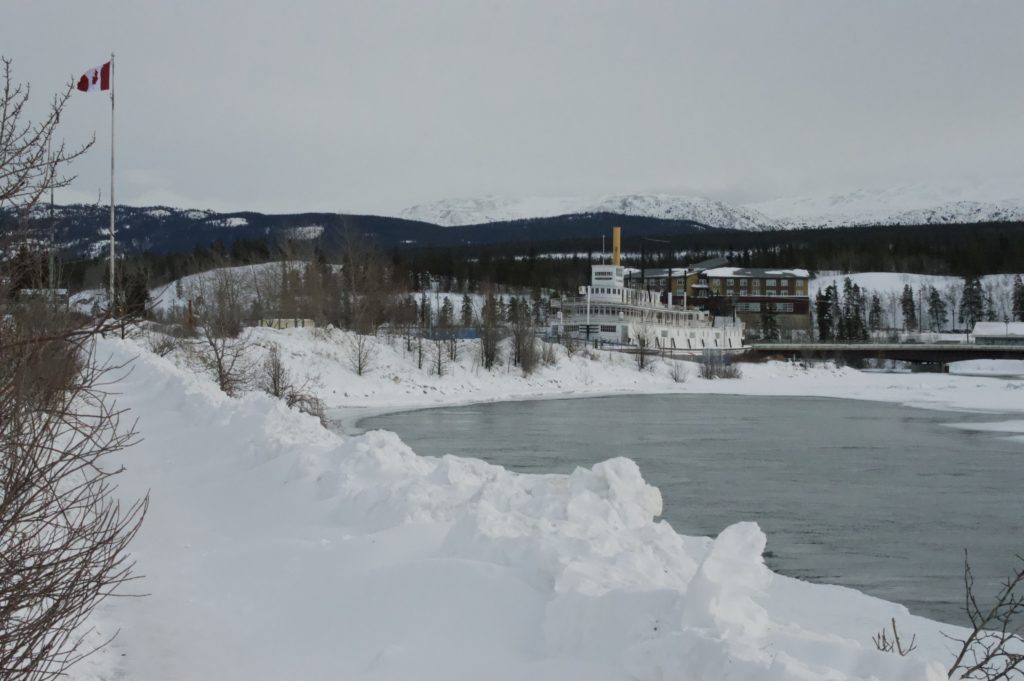 I loved Whitehorse – even in February !! The people are friendly, the scenery is amazing and air is crisp and clean. I cannot wait to come back – maybe this time in summer.