It is probably not much of a stretch to take a trip west to BC in February – but to then extend the visit north to Yukon may seem a bit off the wall. But, when a opportunity presents itself, you just GO! More about the Yukon side later, this post will look at the Vancouver activities.
It was a treat to takeoff from the cold, snowy tarmacs of Halifax and Montreal airports and touch down in the mild, forgiving city that is Vancouver. I took the Canada Line subway from the airport to Yaletown stop, about 15 minute walk to my hotel.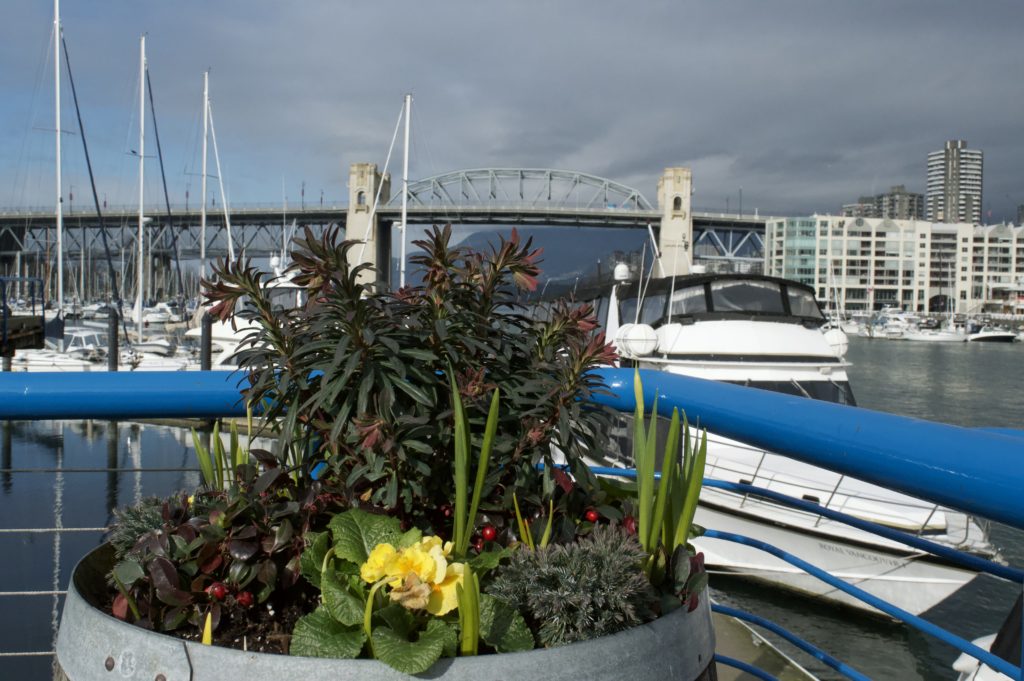 Having not been in BC since 1978 (yip, I was only 17) , when I was lucky enough to participate in high school exchange trip, I was looking forward to new sights, visiting friends, adventures and now being "of age" – beer tasting.
First stop, take a walk from my downtown hotel over the Burrard Bridge towards Granville Market to explore, grab a bite to eat and quench my thirst. Granville Market is filled with shops, food markets and artisan offerings of every sort.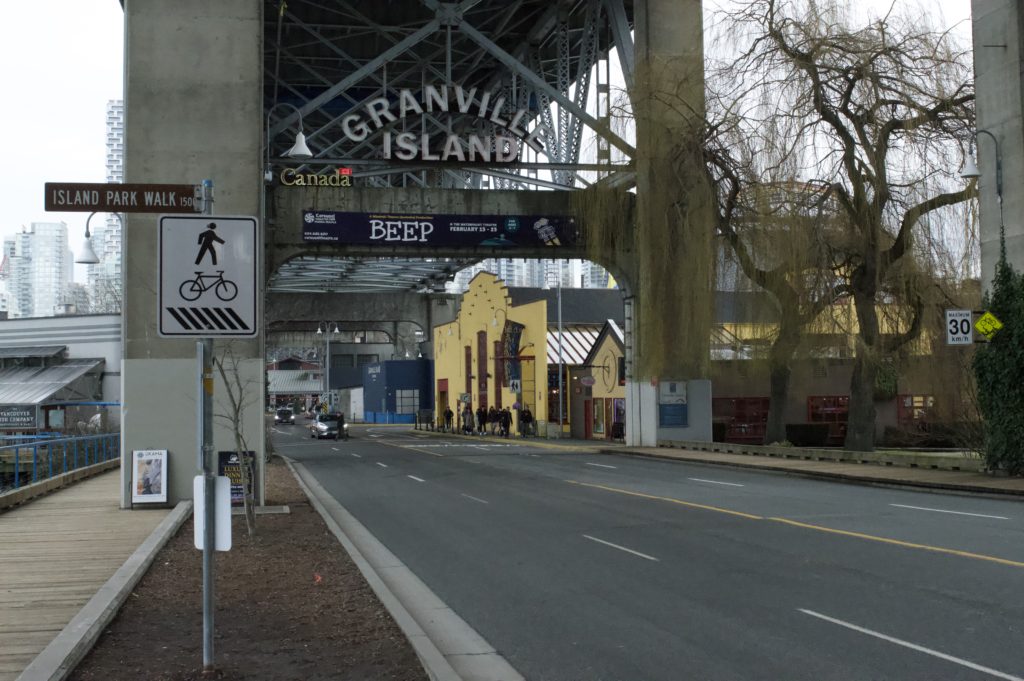 Having a small selection of Granville Island Brewing products at liquor stores at home, I was anxious to visit this popular brewery and try a flight.
Next day, while waiting for the Hop-On-Hop-Off bus, I noticed a parade of pipers, dignitaries and athletes leaving Canada Place on the waterfront. Being nosy, I tagged along and realized that the parade was in celebration of the 10th anniversary of the lighting of the 2010 Olympic Games cauldron. Do you remember who lit the flame in 2010 ?? ….. Time's up ….. It was Nancy Greene Raine, Wayne Gretzky and Steve Nash.
It was nice to just stumble upon this event, a relighting of the fiery cauldron in Jack Poole Square. It was only lit for a short period of time so I was glad to get a few pics.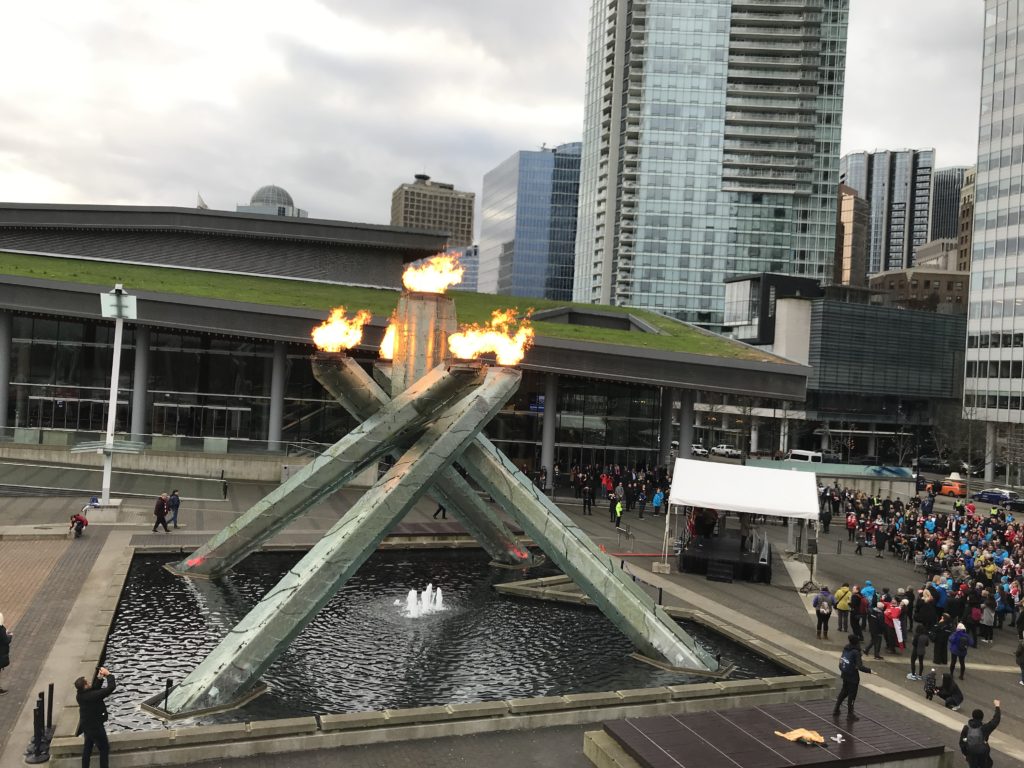 A nice, long stroll around the Stanley Park seawall was high on my priority list. There is no other place in Vancouver where you can get such sweeping vistas of the downtown, harbour, beaches and cityscapes as Stanley Park. Every twist in the trail presents a new and unique perspective.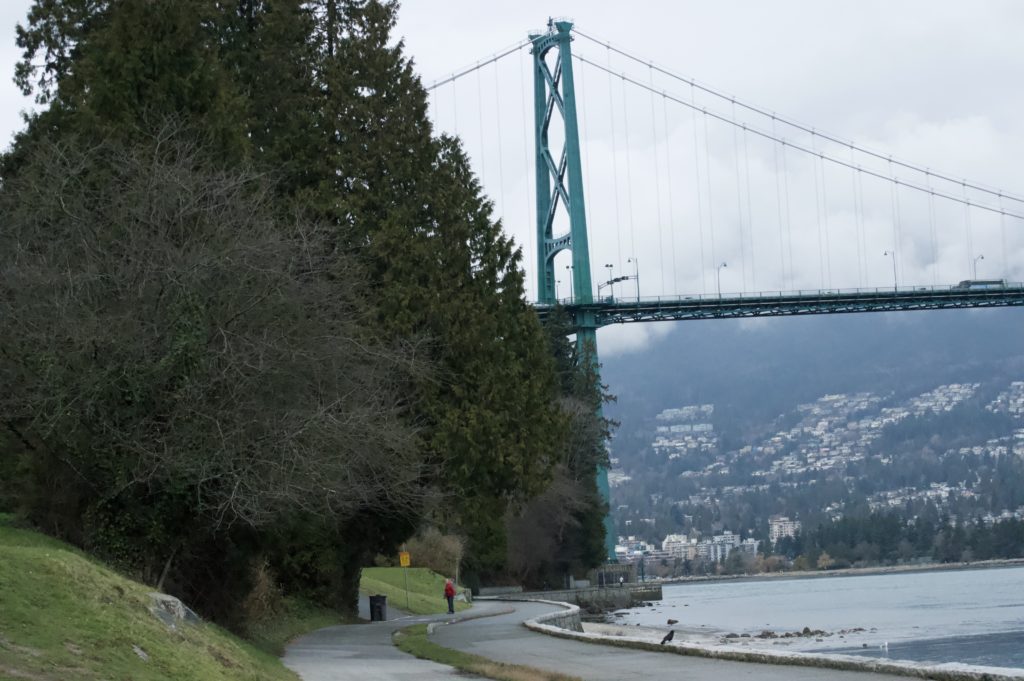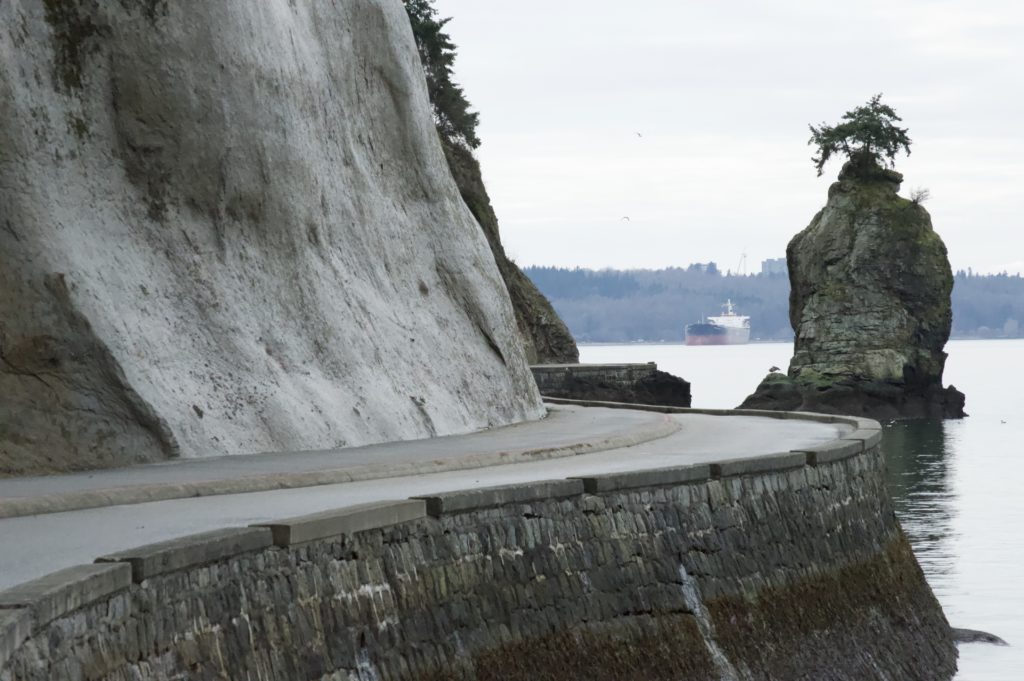 The Hop-On bus was a great way to explore Chinatown and other East end neighbourhoods – as some areas are not exactly "pedestrian friendly". One of my memories from the high school trip was eating at the Old Spaghetti Factory in the Gastown section of the city. I jumped off the bus and took a stroll around Gastown and low and behold- IT WAS STILL THERE. Did I stop in for lunch – You betcha'! I had forgotten that sourdough bread, soup, ice cream and coffee are all included in the price. So Good!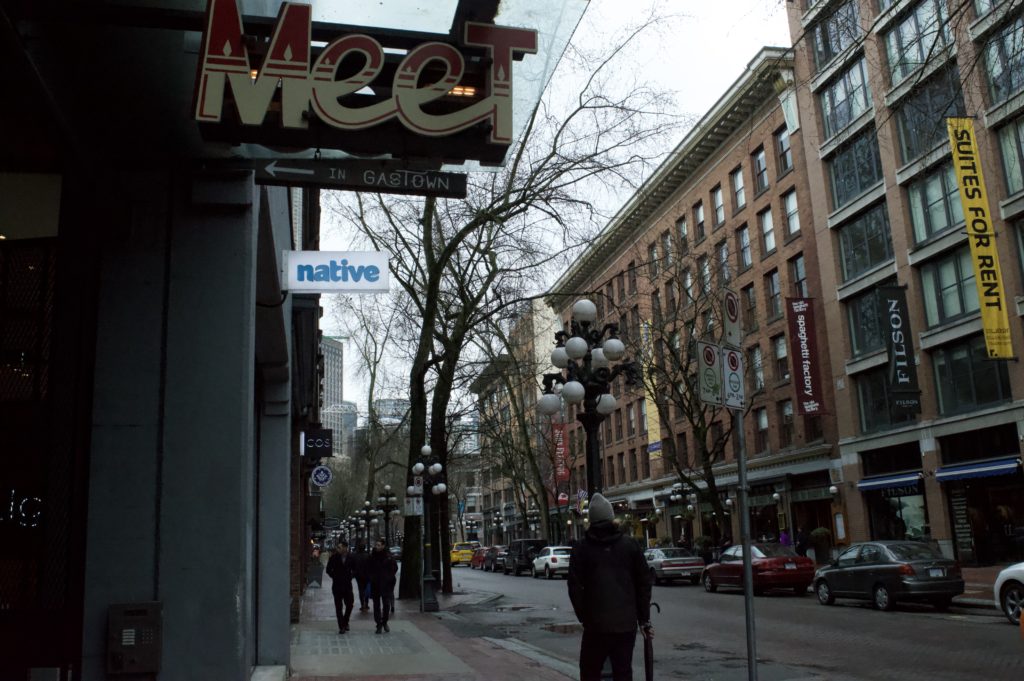 A good friend took me out to the Cactus Cut Cafe on the waterfront for a delicious dinner one evening. The view of the harbour and mountains is amazing and service was top notch. Another foodie treat in the city were the dry rub ribs and beer at Earl's – a western chain we do not have on the East Coast.
Having never travelled the "Sea to Sky" highway to Whisler, it was also a "must do" for me. I bought an inexpensive bus ticket that left downtown around 8:40am, arriving in Whistler by 11:00am. There were only about half dozen of us on the bus – all skiers and it stopped once in Squamish along the way. It is a beautiful drive with mountains, lakes and villages.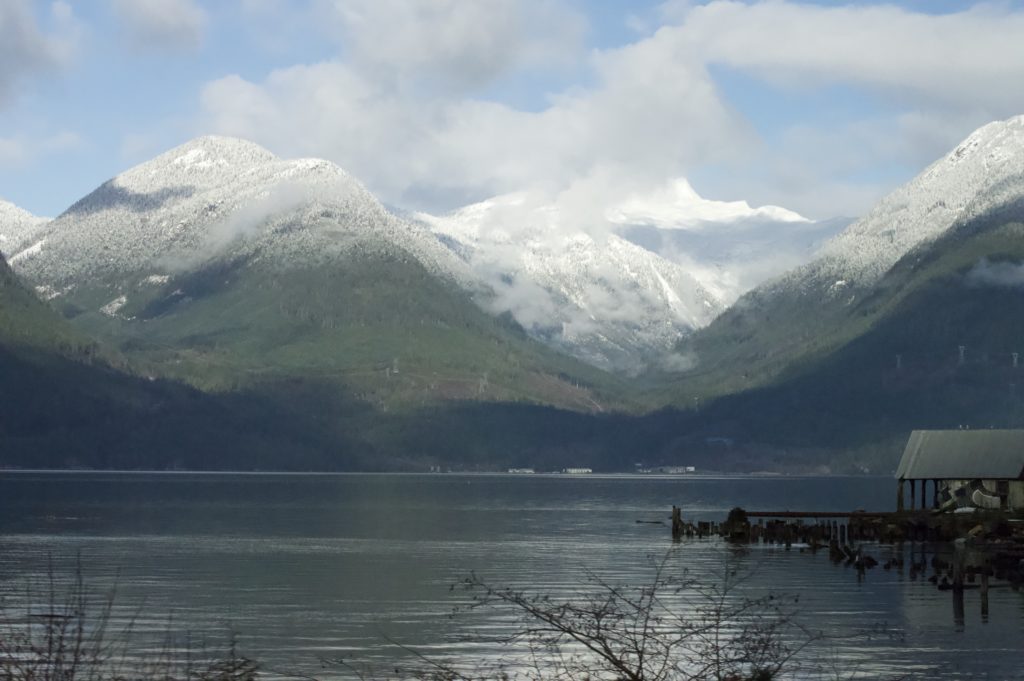 Arriving in Whistler and not really familiar with the area (and with no announcements from the bus driver) I stepped off the bus. It didn't look right – it was not what I had been expecting. It was like a mini skiing complex i.e. a bunny hill, families wandering around, a grocery store, etc. Apparently I was in an area called Creekside, about 15 minutes from the core Whistler village. I found out that a village transit system would take me to the Village – oh well, all part of the adventure.
I was not skiing, just being a tourist on a day trip. Skiing at Whistler is very expensive so keep that in mind. That being said, it is a very nice, trendy spot with all amenities close by. It reminded me allot of the base village for our Europe rip last year – Chamonix, France.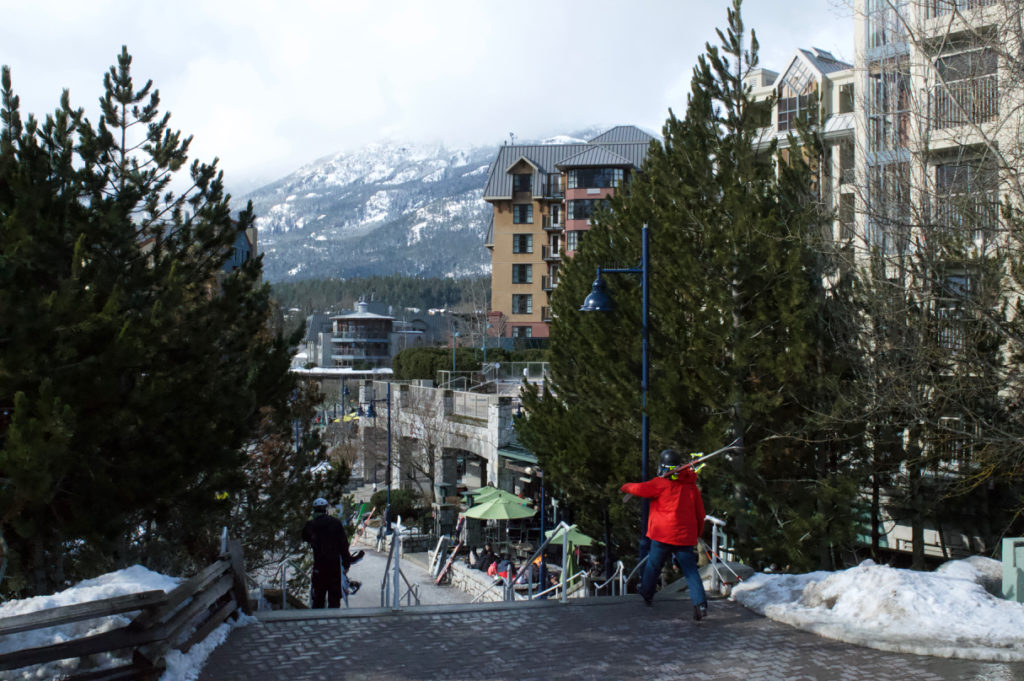 A final dinner with friends – shwarma and other delicious Lebonese treats was certainly a highlight of the trip. Then it was time to pack up and prepare for the trek to Whitehorse, Yukon.