Kicking off 2023 in TAVIRA, PT (all photos can be clicked to enlarge)
Shortly before the New Year started, I took a trip to Tavira, an Algarve town about 100 km to the east of Alvor, about 25 km from the Spainish border. My friends from Scarborough had arrived a few days earlier and invited me to join them for the New Year celebrations. I mapped it out – a bus ride to Portimão and then the train to Tavira, overall maybe 2.5 – 3 hours.
Central Tavira has the River Gilåo splitting the town, which means there are several picturesque bridges connecting the businesses and residences on both sides of the river.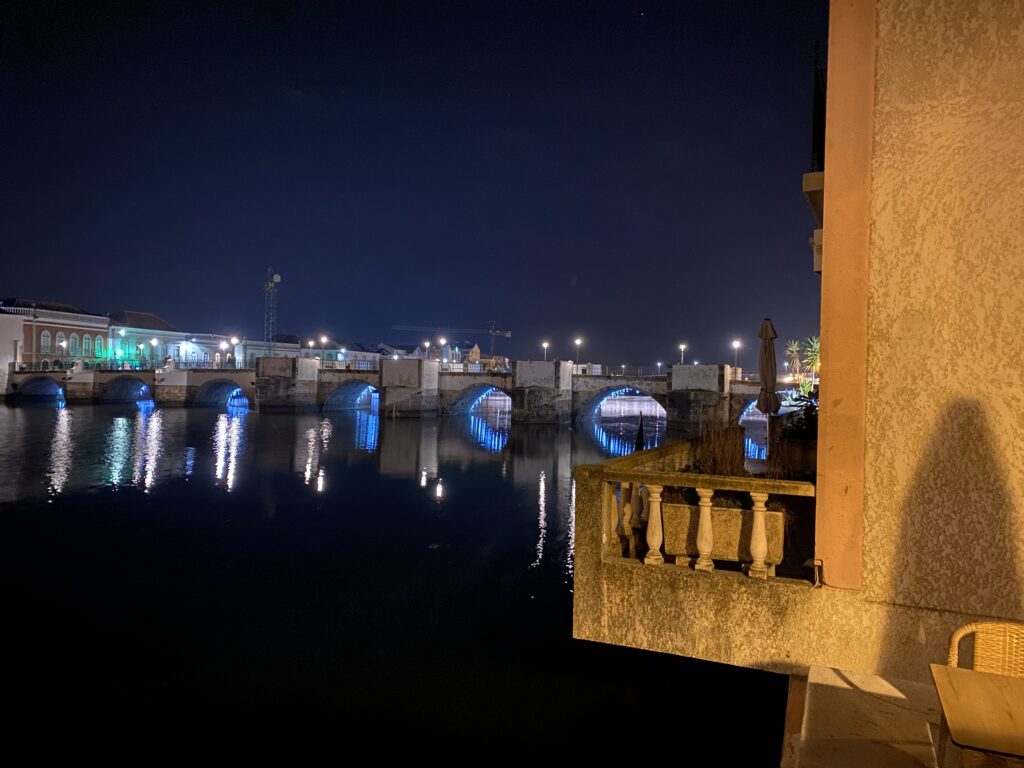 As I am learning, Portuguese villages have many narrow streets that sometimes make you wonder how drivers can manoeuvre the roads around pedestrians and parked cars. We marvel at their ability! Just as an example, the front door of my friend's B&B was close to the road …… how close? ………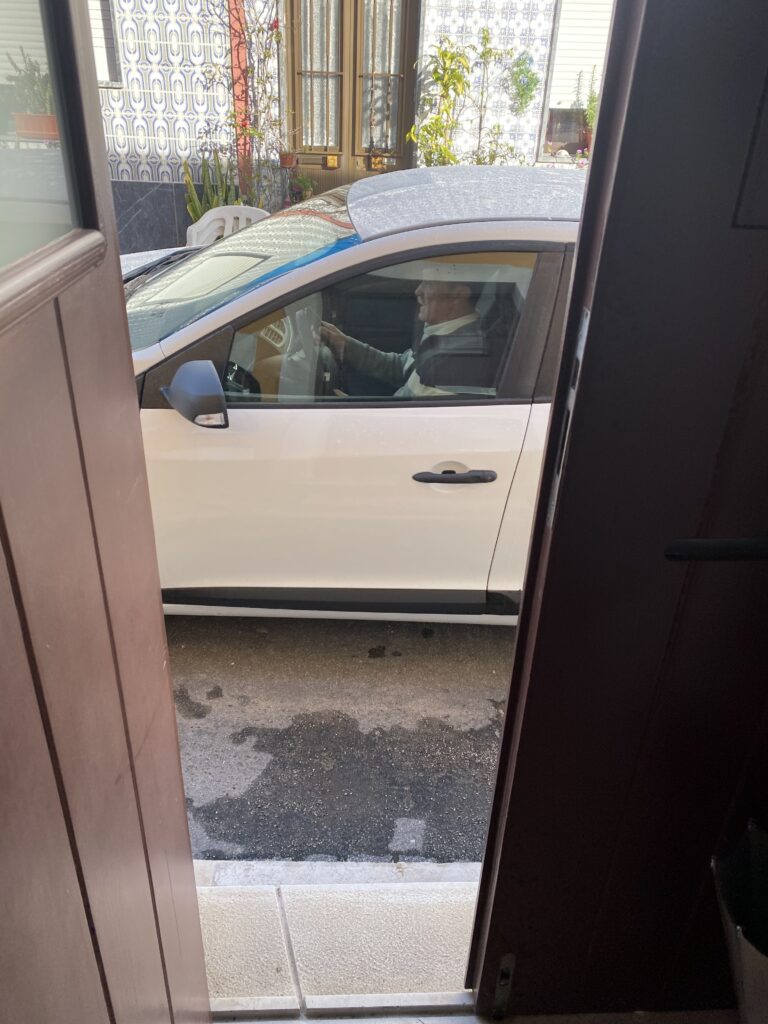 Let me say that Tavira has churches – lots of them i.e. 10+ for a town you can pretty will cover on foot in a few hours. I did take special interest in one church though – the Church of Santa Maria do Castelo (Santiago's Church) for two reasons.
First, I am a big fan of the Knights Templar books, having read a dozen of them over the years. There is a rich history of the Templars in Portugal beginning in the 12th Century, and the Church of Santa Maria has D. Paio Peres Correia (a Templar Portuguese hero) and his seven knights buried there. I was so excited to come this close to the stories I have read over the years.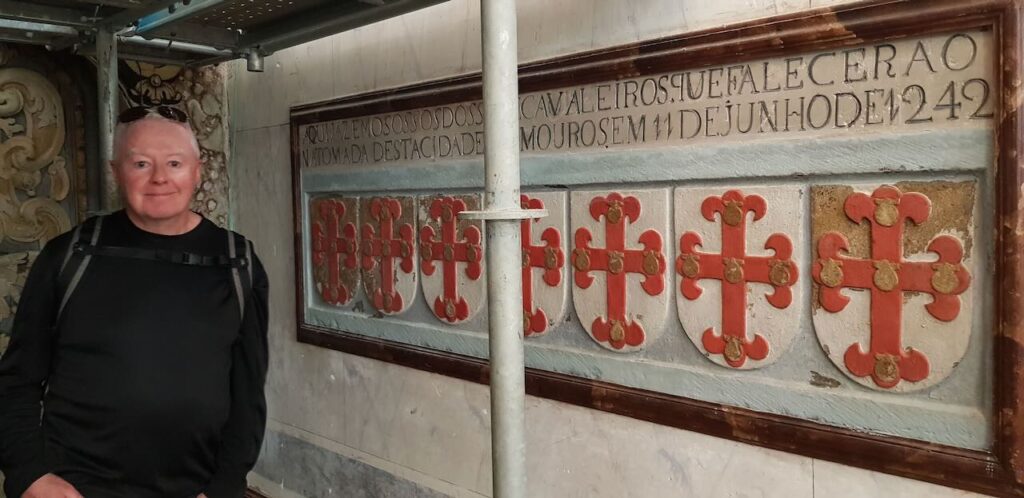 Second, the church has the first arrow and shell for the Portuguese Eastern Route of the Santiago de Compostela Camino route – starting here and continuing 535 km from where it eventually joins the Torres route. The yellow arrows are painted on the road, sidewalk or pole every several hundred meters to guide the pilgrims on their journey. We followed the route for only four or five kilometres but I guess I can say "I officially started my camino", which I've been wanting to do for a long time.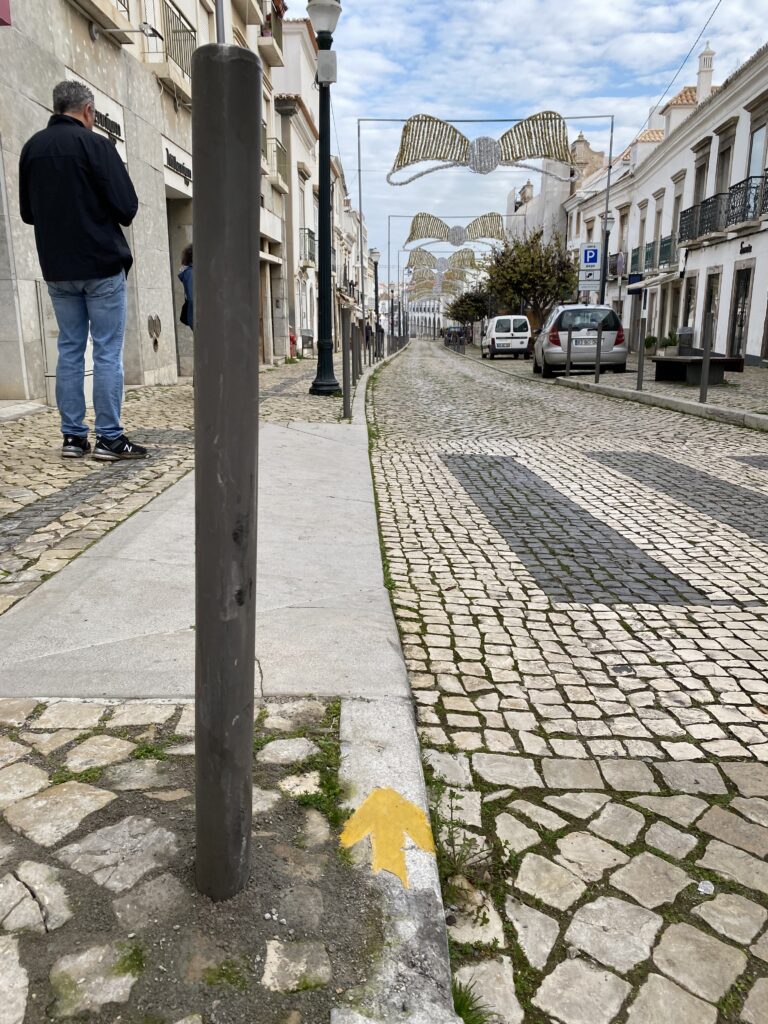 Okay, enough about churches. A quick ferry ride out to Tavira Island was great – 11 kilometres of sand, as far as the eye could see. We brought our swim trunks so we had a New Years Eve dip in the ocean.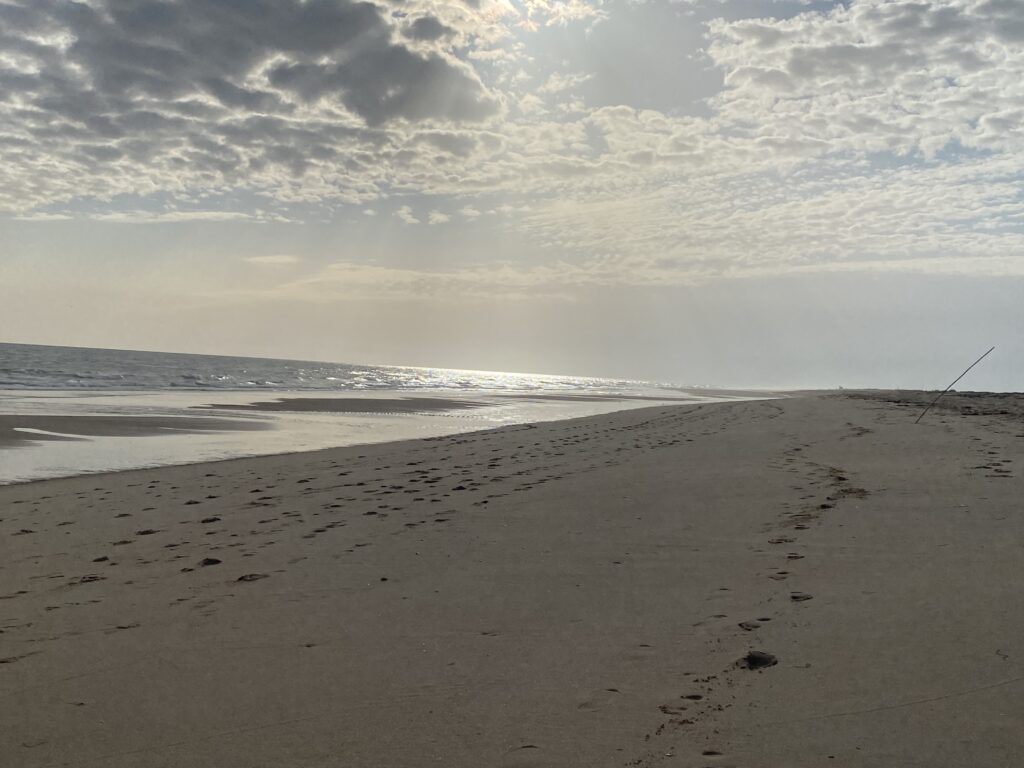 We celebrated New Years Eve drinking sangria wine in the Town Square, with a pretty good rock band providing the entertainment and fireworks over the river at midnight. A delicious brunch the next morning really hit the spot!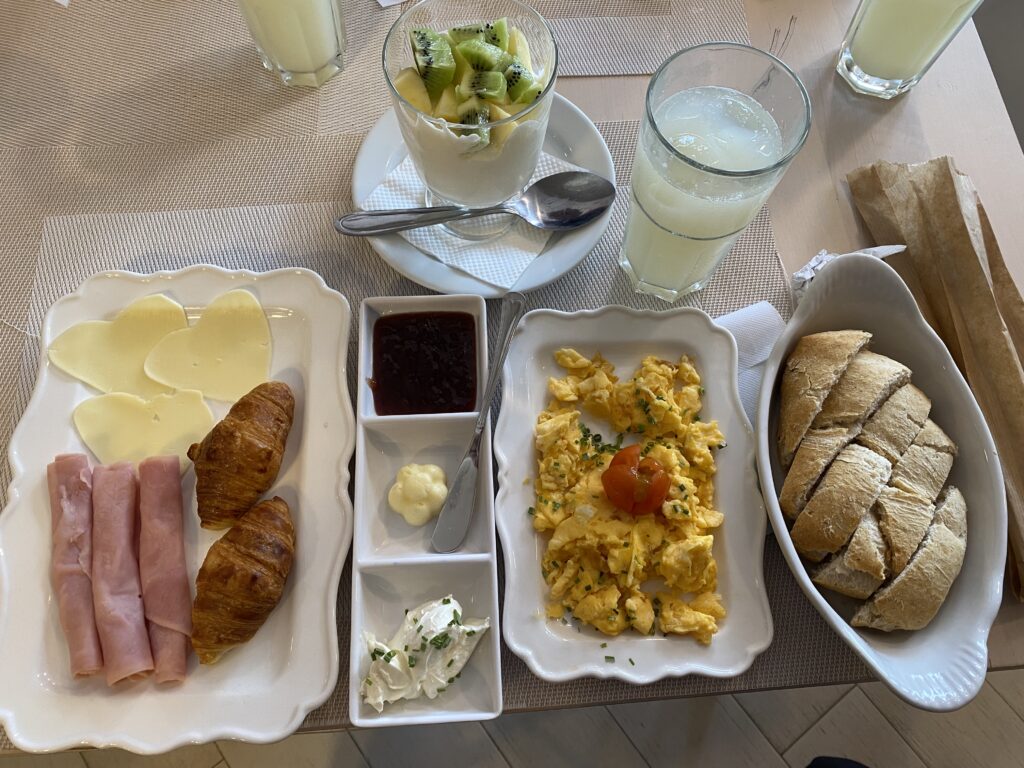 To boot, Tavira has a castle overlooking the town, salt flats, great restaurants and markets. I was excited to see that they had a Camera Obscura location – but sadly it was shut down for maintenance the day I visited. Overall, I really enjoyed my visit to Tavira.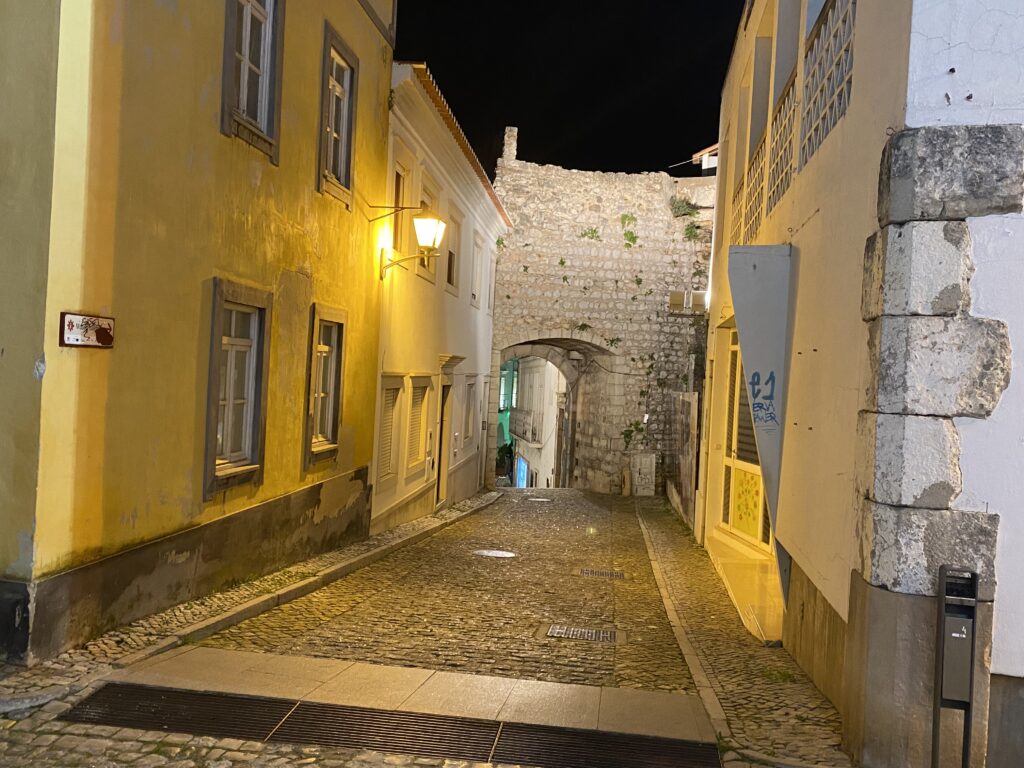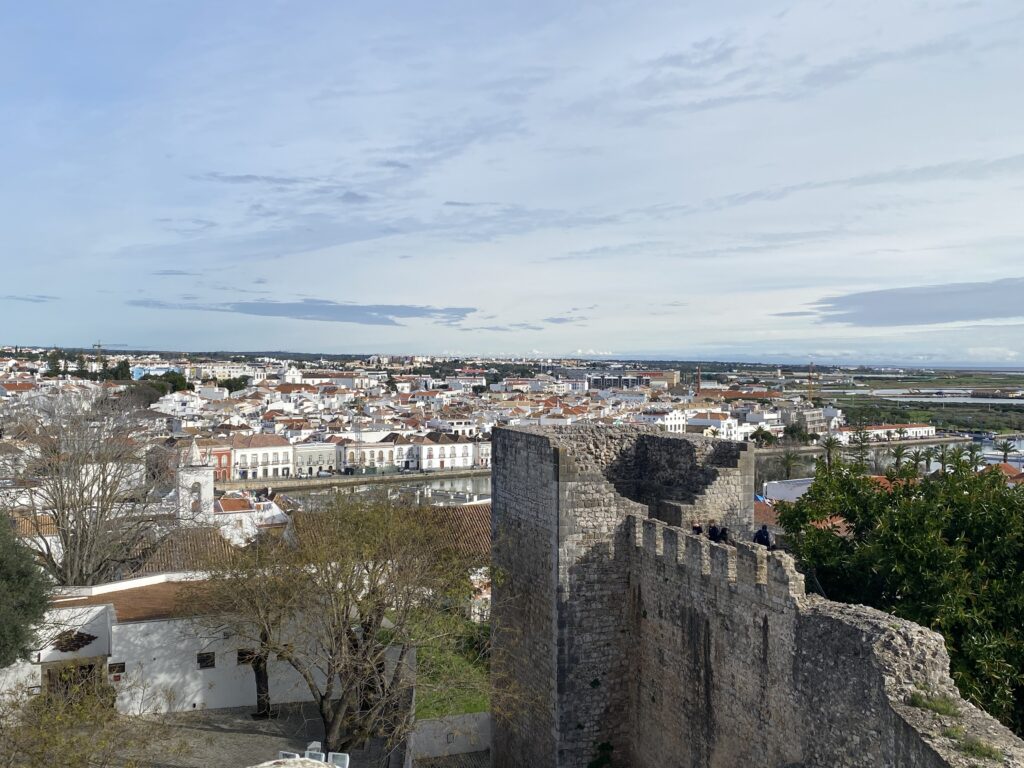 Feel free to leave a comment below. If you wish to contact me, my email is blaisemcneil@gmail.com. Thanks for visiting my site and I hope you'll return soon.