An opportunity to get away for a fall, long weekend is hard to resist. So after trying to nail down a fun cottage rental spot in Nova Scotia (no success), I tried Alma , New Brunswick. We stayed at the Vista Ridge cottages last year for our guys hiking trip and turned out to be perfect for us. Luckily, they had availability so the road trip was a "GO" for the Sept 30th weekend.
Alma is on the southeast shore of New Brunswick at the entrance to Fundy National Park, directly across the Bay of Fundy from Apple River, Nova Scotia. It is about a 3.5 hour drive from Halifax. Apple Maps got confused and selected a route that was more suited for a 4×4 ATV – but my friend's Subaru was up for the task and we did just fine. Thanks Apple Maps. Who doesn't want to see the 16 km stretch of Old Caledonia Mountain Rd at least once in their life?
Lunch and beer was first on the list, so a stop at Tipsy Tails, with a view overlooking the wharf and bay, was in order.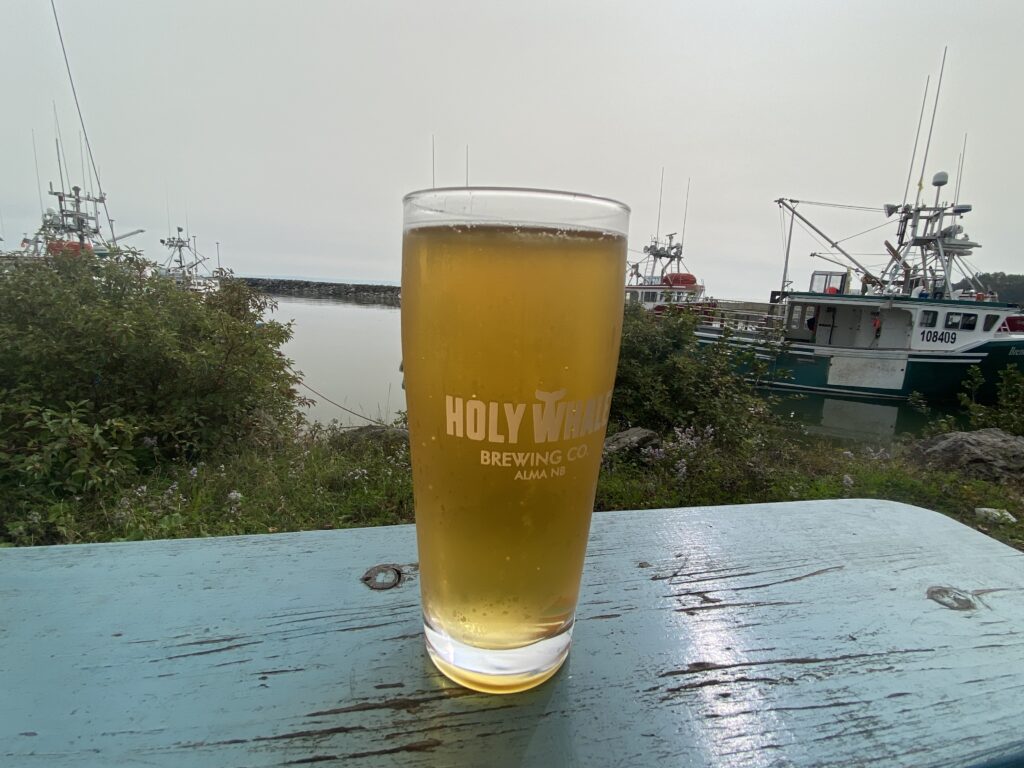 A tall beer from Holy Whale Brewing, situated just up the road, was cold and refreshing. Seared scallops in a Rum Maple sauce were PERFECT, I could have eaten a dozen if put in front of me. Then topping off the meal with fresh, fish tacos was certainly a great start to the weekend.
The Vista Ridge cottages provide the ideal setting to sit outside at the picnic tables, listen to some music and enjoy the view. It is spectacular – the water, mountains and quaint town define Alma, NB.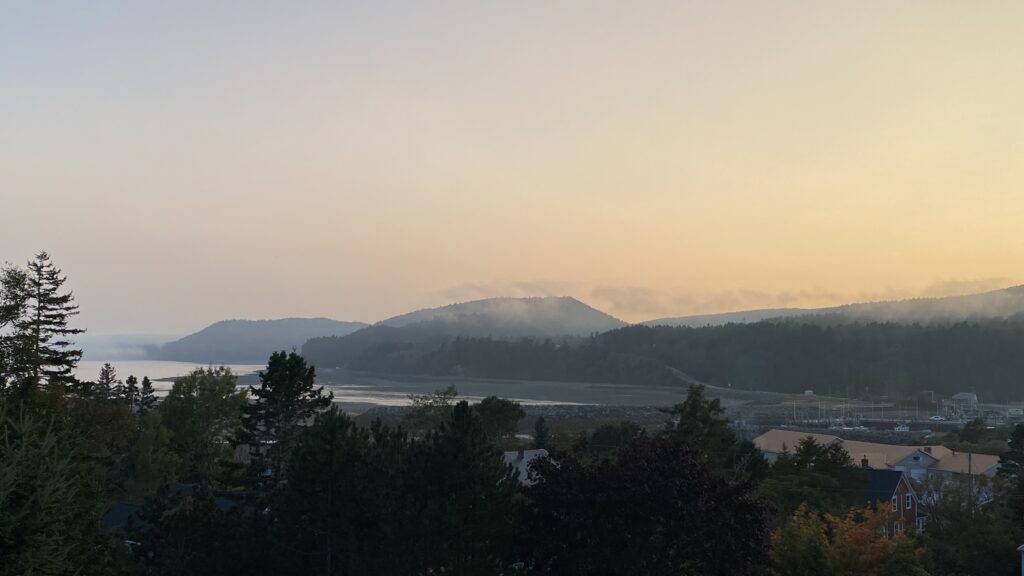 Hiking is a must in Fundy Park, with so many trails to pick from ranging from easy to challenging. Recent storms and hurricanes have forced the closure of some trails, so be sure to checkin with park staff before confirming your hiking plans.
We opted for 'tough', oh I mean challenging with Bennett Brook Trail, 13km return as our choice for the day. For the most park the trail is fairly wide, I think it had been an old logging road back in the day. Fairly flat at first then gently sloping downward from the 3-5km mark, with steep switchbacks as you get closer to the water for the last 1.5km.
Once you reach the river, you realize it is well worth the hike.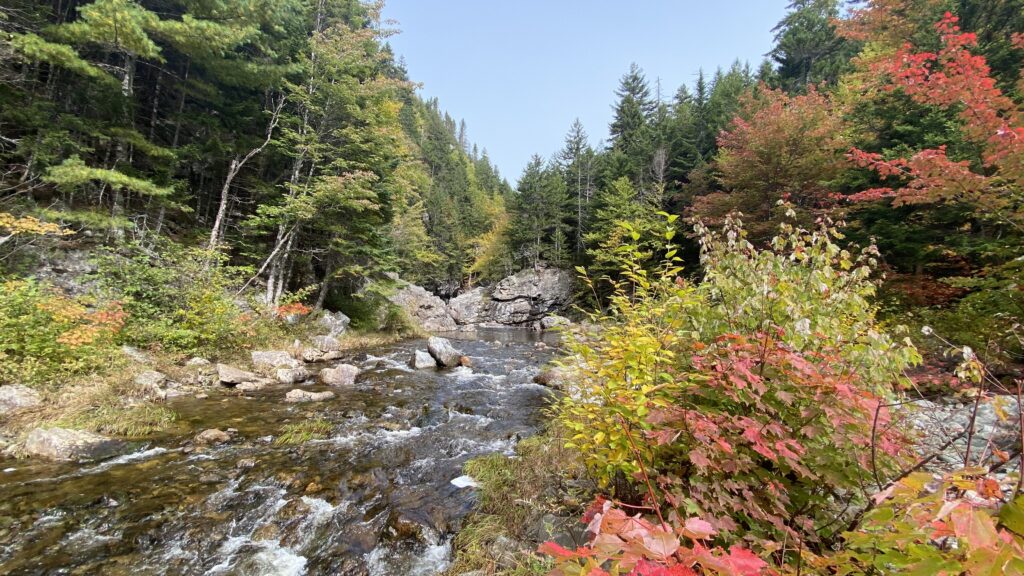 A fast moving river is fed from both a mountainside waterfall as well as another river. It was so pretty, a few colourful leaves starting to change and the water running cold and crystal clear.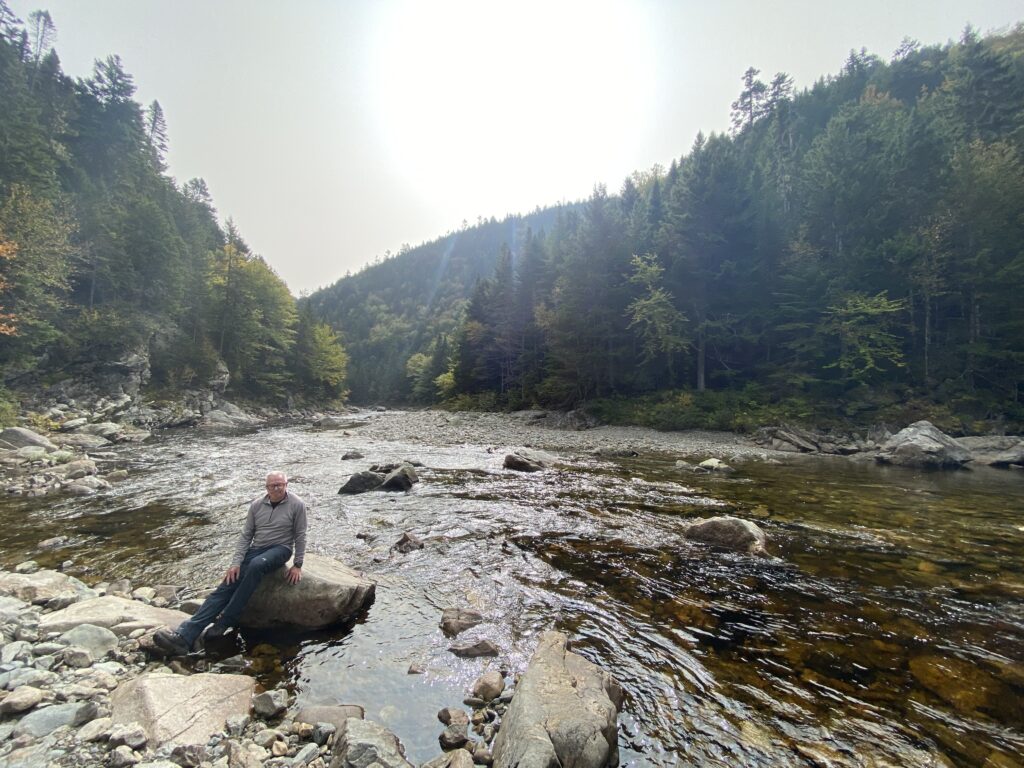 Of course, the return trek back out involves climbing steep switchbacks followed by more gradual, steady upward trekking. By kilometre 10, my right heel was quite sore from an ongoing, nagging plantar fasciitis issue. A stop at a cool, flowing brook was the perfect spot to take off my sock/sneaker and soak the foot for a few minutes. It felt like heaven! A bonfire and BBQ that night with some beer and cocktails was the perfect cap to the day.
Day 3 and the sun was still shining and the weather was still warm. After loading up the car, we stopped off at Alma beach for a walk before hitting the road for home. The tide was coming in FAST and there is no better place on earth to marvel at tidal activity than the Bay of Fundy. You just keep stepping backward and backward as the tide moves in closer and closer – at an amazingly swift pace.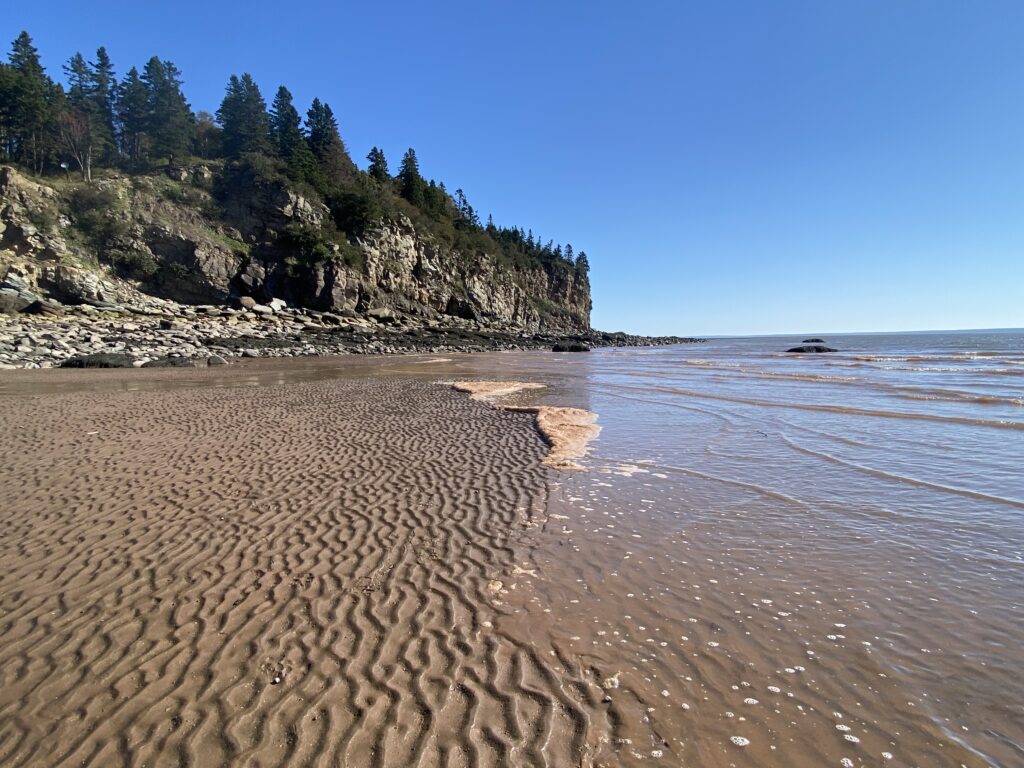 A shoutout to the folks in Alma and Vista Ridge Cottages for their hospitality and of course – to Mother Nature for a warm sunny weekend, albeit the first week of October.
Feel free to leave a comment below. If you wish to contact me, my email is blaisemcneil@gmail.com. Thanks for visiting my site and I hope you'll return soon for my next adventure…. Blaise