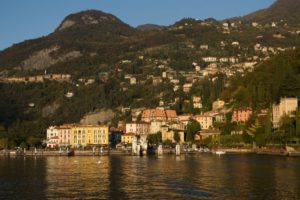 (Town of Varenna)
Greetings from beautiful Lake Como! We spent our two days here navigating our way by ferry between the three major towns – Menaggio (where we are staying), Bellagio and Varenna. Here is a pic of me and my travel mates as we hiked up to the top of Castello di Vezio which provides the best views of the Lake Como area. It was a great way to spend the afternoon. It was a combination of roads and trails but the view made the effort all them more worthwhile. There was cold beer and hot pizza to follow at a local outdoor bistro.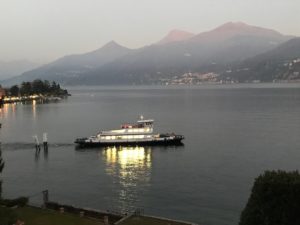 i
The ferry goes from town to town so we bought a day pass that allows a "jump on – jump off" mode which makes it easy to check out each town. There ferries run usually every 1/2 hour or hour. We can catch a good view of the ferry from our hostel. The hostel is very well run and they offer a nightly dinner for 12 Euros and breakfast is included.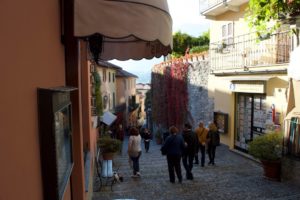 The vibe is relaxed, calm in Lake Como. Nobody is in a rush and since it is off season, the street are not packed with people. Even still, it was 24 degrees C today and soooooo nice out!
(Shopping alleyway in town of Bellagio)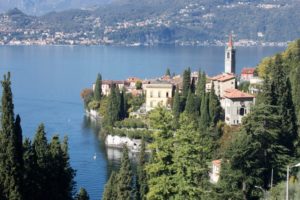 (Villas in Town of Varenna from hiking trail)
Expensive villas are the norm here – oh to be rich and hang out at "the lake"! There are boardwalks, shops, restaurants and cafes everywhere. I just wish we had time to do some more hikes as it would be wicked hiking in this area.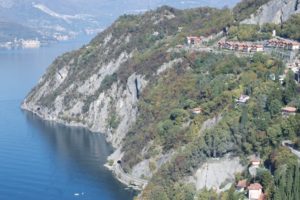 (Cliff top villas in Town of Varenna)

Off to Cinque Terra tomorrow. Trains tickets are all booked so its "on the move again". And the gals never did find George Clooney 🙂

(Town of Menaggio) (Ferry Police – how do they decide who does and does not get on??)
(Pictures can be doubled clicked to enlarge)