How can do this? Ok. Lets try…
Everything in Rome is larger than life and nothing fits into the viewfinder of the camera. You take a turn and there is Trevi Fountain, St. Peter's Basilica, the Pantheon, piazzas, 2000 year old archways – you get the point. Maybe I'll try some words and post a few pics as well.
We started our visit to Rome with a walking tour that not only included many of the ancient Rome "must-sees" but also a stop at a gelato shop that was pretty kick ass.
The following morning my travel mates booked a tour of the Colosseum but I think I hit the wall for old buildings, churches and gladiators and wanted only to sleep, do laundry and watch mindless Italian TV for just a few hours. We met up at lunchtime before embarking on a tour of the Vatican which was great, but given that they shuffle 30,000 people through those buildings every day – it was something you just had to accept and move along like sheep at the slaughter.
Visiting the Sistine Chapel was amazing and worth the other annoyances. I did learn that Michelangelo was a cranky old fart and not really a "citizen of the year" candidate while alive. I guess if you had paint dripping in in your eyes for four years that made you blind while you strained your neck and back painting that ceiling you would be cantankerous as well.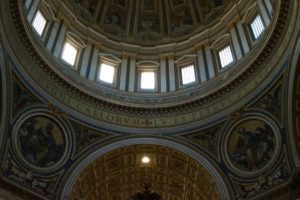 Here is the dome and altar from St. Peter's Basilica for all the Catholic in the crowd ! It really is quite amazing.
We took another day to sleep late and just wander at a leisurely pace at key sights that needed a second look or explore new neighbourhoods of Rome.
A tour guide can give great tips on where to eat and drink in the city so we booked a spot for dinner at her recommendation and were not disappointed! My Calzoni was delicious! One of our mates heads home tomorrow so now we are three, which means our trip is drawing to a close. We are heading out of Rome to Orvieto in the AM for one final adventure before flying home on Saturday. We'll try to check in from there ….. Blaise