The expectation was that Siena would a low-key town, a change from the busy fast-paced streets of Florence. As it turns out, Siena (about 60 km south) is quite a large city that takes steps to ensure that it can keep up with it's rival city, Florence.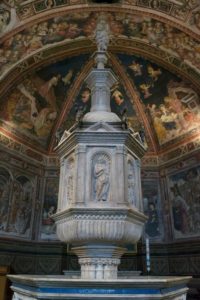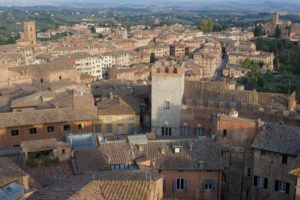 Their cathedral (also called Duomo) is beautiful with several other nearby attractions – the museum, the baptismal, the cripte and tower to climb. There are abundant restaurants, cafes and tons of shopping to boot.
They also have a hugh piazza called Il Campo where all the locals plank themselves down on the ground and have a coffee, read or just hang out. Different from many other towns, the focus of the square is City Hall instead of a religious institution. Ill Campo is also the home of a bi-annual horse race that attracts thousands off locals as two of the the 17 districts of Siena compete for the glory of the win. That would certainly be fun to see.

While eating lunch, we were treated to opera music from a group of men heading up the street to out restaurant. Their singing got a bit louder the more shots they had 🙂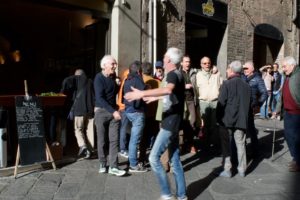 We also booked a wine tasting tour to try the local specialty wine called Brunello. We travelled by minivan about 40 km outside the city towards Montalicino making two stops: one at a wine shop and the other at a winery. The winery was more fun as they sat us down at tables for the tasting, offering bread and salami on the side.
We chased down all that with shot(s) of grapes – strong booze made from fermented grape skins. Our tour mates were a cute couple from Brazil on their honeymoon. Lots of laughs as we chatted with them, shocked that we commented how well their spoken English was! They had no formal training and learned English from TV, movies and video games.
`
We are currently on a bus heading for Rome. We'll talk to ya soon!